Two-time former boxing champion Badou Jack wants to grow the multi-billion dollar sport in the Middle East, but the so-called 'Muslim hero' is on a bigger mission to feed 75,000 refugee children a day.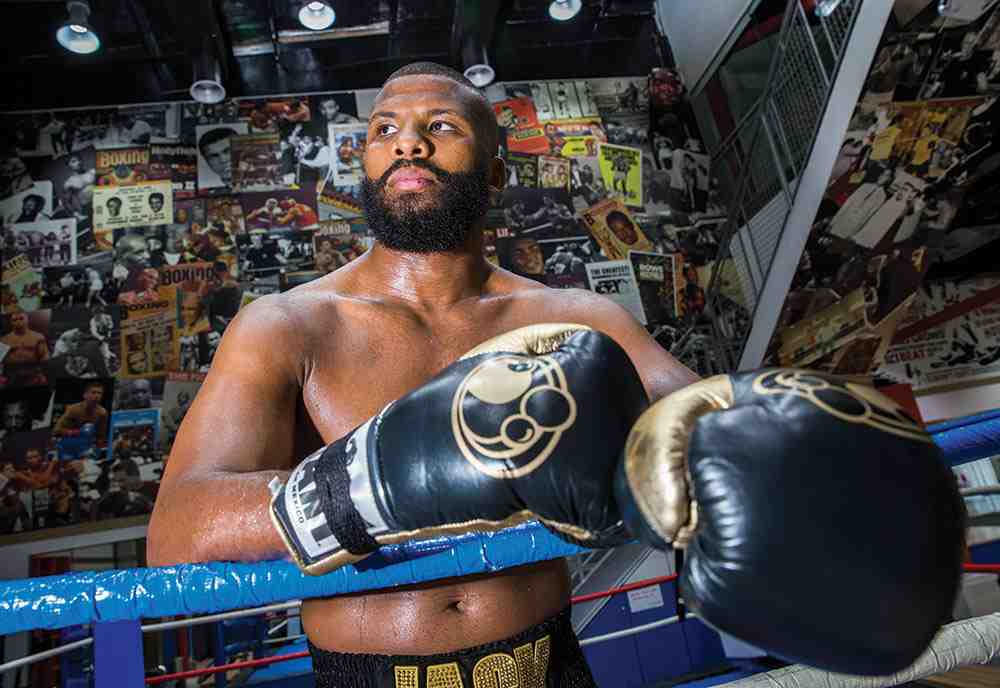 He stands at 1.85 metres tall and weighs in at 75 kilograms of seemingly solid-rock muscle, making me – despite being taller and heavier – feel small by comparison. Then there's the famous scar that runs down his forehead, between his eyes to the bridge of his nose; the grim and permanent reminder of the January boxing match that left his face split open, forcing him to finish the fight in a bloody scene that could have easily been torn from the script of a horror flick. But Badou Jack, the 35-year-old two-time champion, couldn't care less.
"I'm a fighter, not a model."
After an 18-year career in the brutal world of boxing, the Swedish-Gambian, who held two world championship titles in two weight classes between 2015 and 2017, is training for a different kind of victory; this time, in the worlds of business and philanthropy.
It's all about giving kids around the world a fighting chance in life. I call what I do boxing with a purpose, and this is nutrition with a purpose.
As he sits down with Arabian Business in line with the debut of his UAE-based events company Badou Jack Promotions and Events, the steely-eyed boxer is calm and collected – a rare trait in a sport that's notorious for bluster and big personalities. "It's a big year," he says.
Indeed it is, as his star-studded affair at Five Palm Jumeirah saw 26 boxers and kickboxers from around the globe go head-to-head in front of thousands including sport icons Amir Khan and Naseem Hamed.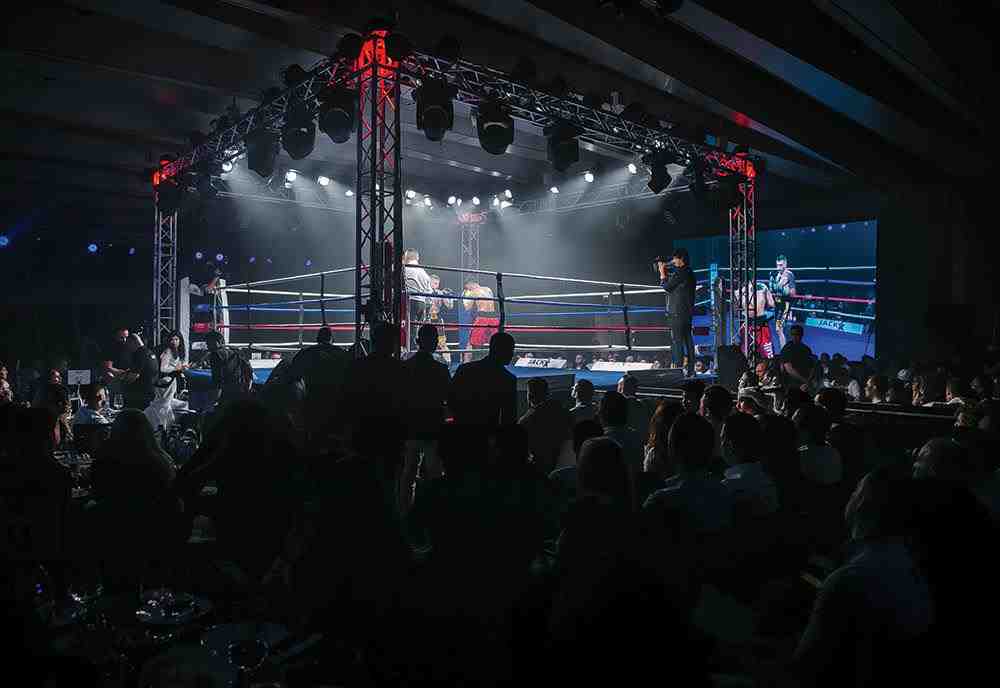 But the event that was streamed to 175 countries around the world is merely the beginning; Jack wants to grow the multi-billion dollar boxing industry in one of the sport's largely untapped markets: the Middle East.
This time for Dubai
"We're trying to build boxing in this region. It is the perfect place to start. It's not that big, but it's going to be huge," he says.
"We're starting with Dubai because it's like the Las Vegas of the Middle East."
To show his dedication to the Arab world, Jack has gone as far as to set up a home in Dubai, bringing his Iraqi, Iranian-born Swedish wife Yasmine and their children to the city.
And while Dubai and the region have a long way to go before competing with the likes of Las Vegas and New York City, which regularly host multi-million dollar fights between sports' biggest names, Jack believes it's the perfect fit for would-be prize-fighters coming from countries – like his own – where boxing is yet to take off.
"I come from a country where boxing is now big, and I became a world champion. If [young boxers] see that the platform is right here for them to fight, it's even better for them.
I don't think we can bring the Manny Pacquiao and Amir Khan-type fights to the region just yet. But we'd love to do a show in Saudi Arabia; that would be great. We'll take it one show at a time and see how it goes, but we plan to take over," he says.
Nutrition with a purpose
While he supports young boxers building respectable careers in the Middle East, Jack will also be on a mission of his own: feed the Arab world's refugee children, on day at a time.
Through his non-profit Badou Jack Foundation, which he founded last year with friend, business manager and former professional kickboxer Amer Abdallah, Jack aims to feed between 50,000 to 75,000 refugee children in the Middle East every day.
'm open to any fight that is good and generates good money.
The children will be provided with nutritional meal replacement shakes, each paid for with the proceeds of Jack's "Ripper Nutrition" bars in the United States.
"It's all about giving kids around the world a fighting chance in life. I call what I do 'boxing with a purpose,' and this is nutrition with a purpose" he says, cracking a smile for the first time during our 30-minute conversation.
"We started in Jordan at Palestinian and Syrian refugee camps, and we're going to expand to my country, to Gambia. We're going to make it huge."
Jack's decision to feed the children stems from his experience in Jordan last year when he witnessed hundreds of thousands of Arab children suffering from malnutrition in overcrowded refugee camps scattered across the country.
"It was really heart-breaking to see how they live. Some of those kids don't even have shoes. They have nothing and they come from war, and some have no parents. It's tough, so we just want to help as many kids as possible," says Jack.
Muslim hero
He seems reluctant to share more details relating to his charitable activities, as his long-time friend Abdallah jumps in and says, "He doesn't like me talking about this, but he was already doing a lot of charity work in Gambia, but quietly.
After each of his fights, he would go help children, donate food or boxing equipment or helping guys with gas or electric bills. What we're doing now is just a little bit more evolved and on a more public platform," he says.
He goes as far as to call Jack a 'Muslim hero', explaining that a time in which Muslims around the world are maligned by politicians, they need 'a champion'.
"In today's world, the Muslims need a hero. Whenever something happens, the entire religion goes on trial. All 1.8 billion Muslims become enemies of the people, because that's how the media portrays it. I always tell him, he needs to be promoted as our Muslim champion. It's a responsibility to step up," Abdallah says.
Bigger than boxing
Jack's chance to become a Muslim hero may come sooner rather than later, as he plans to return to the ring at the end of the summer, possibly against notoriously tough New Yorker Marcus Browne – the boxer behind Jack's visible scar.
We started in Jordan at Palestinian and Syrian refugee camps, and we're going to expand to my country, to Gambia. We're going to make it huge.
"It may be a re-match or a fight against another champion, or a move up in weight. I'm open to any fight that is good and generates good money. I've got a few fights left. I'd love to fight here, or in Saudi Arabia for my next fight maybe. Let's see."
But as he approaches his 36th birthday in October, Jack says the foundation "may be much bigger than my boxing career".
The foundation's other activities
Aside from the project to feed children through the sale of Ripper Nutrition bars, the Badou Jack Foundation recently opened an education centre at Jordan's largest refugee camp, Baqa'a.
The centre focuses on children who have not had access to education due to financial or physical restraints, and teaches them essential basics such as math, language and science.
Additionally, the foundation is working with a rehabilitation centre for disabled refugees to provide it with medical equipment and supplies, as well as a mentorship programme that educates orphaned refugees by involving them in sports and taking them on field trips.
Badou Jack on Dubai
Having recently moved to Dubai, the boxer plans to split his time between his other homes in Las Vegas and in Sweden.
"You have all the cultures of the world mixed together here. It's a beautiful country; it's a Muslim country. To me, Dubai is one of the best cities in the world," he says.
"It's also safe. My kids and my wife can be here and not have to worry about anything. In the US, crazy stuff happens all the time. It's my city now."
Home run
In 2008, Jack, who was born in Sweden to a Swedish mother and a Gambian father, made the decision to represent Gambia – population 2 million – at the Beijing Olympics just a year after being crowned Boxer of the Year by the Swedish Boxing Federation.
"I wanted to make my dad and the Gambian people proud, so I decided to try to qualify for them instead. I have absolutely no regrets for that," he told a Gambian magazine of his decision.
After serving as Gambia's flagbearer at the event's opening ceremony, Jack went on to reach the first round of the middleweight bracket before being defeated by Indian boxer-turned-actor-turned-politician Vijender Singh.
Article Written by: Bernd Debusmann Jr on Jun 13, 2019